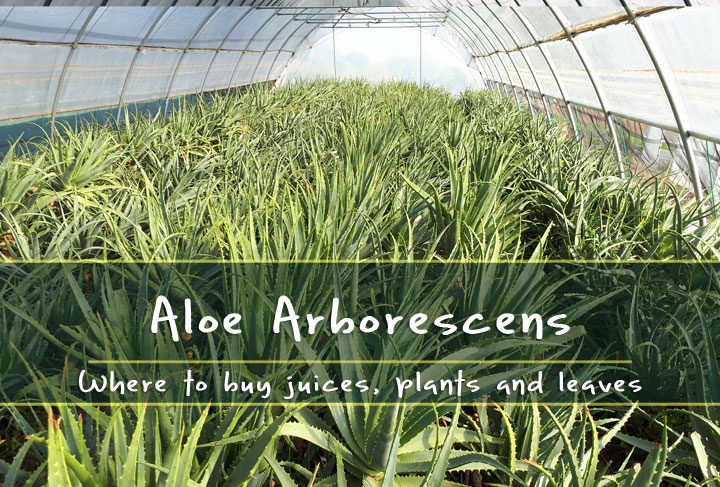 You can buy our products based on Aloe Arborescens directly on our website, or if you prefer you can buy Aloe plants, or fresh leaves.
In a few simple steps you can buy from the comfort of your home by ordering the products you prefer, you just add them to the shopping cart and complete the order online and receive directly to your home the products you have chosen. These are 100% natural plants and products, not contaminated by pesticides, chemical fertilizers, additives, preservatives or sweeteners.
For all orders in Italy, I remind you that shipping is free of charge for an expenditure equal to or above € 34 (including VAT)
Where to buy our Aloe plants, leaves, juices and creams:
Here's where you can order all our products and our Aloe plants:
We cultivate Aloe in our land
All the Aloe Arborescens and Aloe Vera plants that are sold, or used for the production of products (fresh juices, creams, sprays, shampoos, shower gel, etc.) are grown in the field of Erbe di Mauro farm, here in Fermo, Marche region, in central Italy.
We grow the cultivation plants in a 100% natural and biodynamic way, without the use of pesticides, chemical fertilizers or other chemicals harmful to the environment or to humans.
The purchase on erbedimauro.it is totally safe and fast: order today your product based on aloe arborescens and receive it safely at home. In this way, you can immediately start a wellness journey. Is not by chance that aloe arborescens was used since ancient times, by the Sumerians and the Egyptians, and even Christopher Columbus cited its positive effects. Today, as ancient times, aloe arborescens is always the plant of the well-being.
Our Aloe juices
Besides selling Aloe plants and fresh leaves, we also produce fresh Aloe juices. The most famous product and on which we put more energy is undoubtedly the famous recipe of Father Romano Zago, based on Aloe Arborescens, organic raw honey and distilled (you can order it here).
We also make other versions of the same juice (without alcohol, with more aloe and less honey, without honey, etc.) or completely different versions, like Aloe Vera juice concentrate without aloin, or the pure juice of Aloe Arborescens.
Our juices are all made on the basis of these rules:
The Aloe plants, from which the leaves are harvested and used, are all above 4 years old and are cultivated by us, in our land, in a natural and biodynamic way; The harvest of leaves is always done by hand, before sunrise. We only use plants that have not been watered for at least 6 days, so that the leaves have a greater concentration of active ingredients;
The juices are made upon order; that is, the customer orders and the following morning we prepare the product and then ship it (arrival scheduled in 24/48h);
Aloe juices are all natural, do not contain preservatives and are not pasteurized;
Our juices:
Aloe Arborescens juice, Father Zago's original recipe 325ml/750 ml
Packaging of 325ml and 750ml
Ingredients: Aloe Arborescens, honey and distillate
Italian product
Company: Erbe di Mauro