Today I would like to talk to you about the famous tiger balm , ( tiger balm in English ), known by some as the "tiger oil", an ancient Chinese tradition ointment with an effective and rapid anti-inflammatory action , incredibly effective to relieve joint and muscular pain, headaches, respiratory problems, mosquito bites and much more.
Brief history of the Balsam of Tigre
It is said that the original recipe of tiger balm originates in ancient China , a mixture of herbs that doctors then used to alleviate the pains of their emperors.
But it was Aw Chu Kin , a Chinese herbalist born in the mid-1800s, and then living in Burma , in Rangoon, to perfect the recipe, the same that is still used today to prepare the "magical" ointment, able to alleviate very little time arthritic pain, muscle sprains, dislocations, bruises, but also the headache and respiratory problems, like the simple cold.
Later, after the death of his father (1908), the two brothers Aw Boon Par and Aw Boon Haw moved to Singapore and began marketing the product, achieving international success. Even today, the "Haw Par Corporation", listed since 1969 on the Singapore stock exchange, manages the global Tiger Balm market.
Some rumors give credit to the legend according to which the original recipe would contain parts of tiger (like fat and tiger bones) and that this cream is one of the main causes of the extinction of this magnificent animal.
Obviously nothing of this is true .
The name instead takes inspiration from Taoist philosophy, where the tiger symbolizes strength, vigor and vitality , all that this balm promises to return to the aching body after its application.
In tiger balm, as I said, we do not find parts of tiger, or other substances of animal origin, but a very precise combination of vegetable substances (such as extracts of herbs and essential oils) and, unfortunately, also a good 42% of petroleum derivatives , such as paraffin and petrolatum (indicated in the package as Paraffin and Petrolatum). The latter substances are commonly used in traditional cosmetics, but today it is possible to do without them by replacing them with vegetable oils.
If you keep reading, you will discover that even with the tiger balm you can choose an equally effective product, but 100% vegetable and natural.
Red and white tiger balm
There are two types of tiger balm:
White tiger balm : it is the lightest form, used more than anything to soothe some forms of headache, cold and mosquito bites. Among the ingredients we find: camphor, menthol, peppermint essential oil, essential oil of cajeput, essential oil of eucalyptus and essential oil of cloves.
Red tiger balm : this cream is stronger and in addition to soothe headaches and respiratory problems, it is indicated as anti-inflammatory in case of joint and muscular pain. Among the ingredients, in addition to those already mentioned for the white version, we also find the essential oil of cassia and cinnamon. The red color of this balm is due to the presence of ammonium hydroxide.
It also contains petroleum derivatives!
In the composition of both creams , almost half (42%), paraffin, vaseline and other petrolatums are present .
Even if they are legally permitted, using these substances in the long run can damage the skin.
How do petrolatums work and what are they?
Petrolates are hydrocarbons, substances deriving from petroleum refining waste . In the cosmetics the so-called "white petrolatums" are used, refined and free from the impurities of the processing.
They are used in cosmetics as protective agents to prevent skin dehydration.
Petrolates work by creating a sort of protective film on the skin, which prevents dehydration by preventing the water present in the cells from evaporating. Moreover, their consistency causes the skin to appear smooth and silky.
However, this feeling is only temporary, as they do not nourish the skin, but simply limit it to covering it with an oily layer.
Their covering characteristic, however, is also one of their biggest defects: in fact they prevent not only the water to go out, but also the oxygen to enter , going to interfere with the normal breathing of the skin and allowing microorganisms and bacteria to proliferate to the below their protective film.
It is also a matter of comedogenic substances: closing the pores, they favor the formation of blackheads, pimples and other imperfections .
For this reason I strongly recommend that you always choose cosmetics that do not contain petroleum derivatives. Of course, the expense will be a little 'greater, since these substances should be replaced with natural products far more valuable, but it goes to the health of your skin .
Is tiger balm illegal?
Some mistakenly believe that tiger balm is illegal .
In reality it is not found around simply because it is a patented product and produced exclusively in Singapore and marketed mostly in Asia and the United States. So it is not possible to order it in the pharmacy.
In Italy you can buy similar products, including our Aloe Vera Tiger Cream , 100% vegetable and natural, produced without paraffin and petrolatum.
Properties and benefits
Thanks to a precise and careful mixture of herbs and essential oils, tiger balm has many medicinal properties , which make it one of the most widely used natural remedies in the world today.
These are the main properties of tiger balm:
antiseptic,
balsamic,
analgesic,
anti-inflammatory,
antimicrobial,
heating (the red tiger balm).
But basically, what good is the tiger balm ?
These are the main benefits:
Muscle olori: Relieves pain caused by tears, strains, sprains, sprains, stiff neck, contractures, bruises and bruises. In this case we can say that it is very useful for athletes, who often fall into these problems, but also for ordinary people, for example in case of accidental falls, accidents at home, or during work.
Joint pain : Relieves pain due to arthritis, arthrosis, cervical, back pain, back pain, pain in the knees and joints, sciatica (pain in the sciatic nerve), tendonitis, etc.
Respiratory problems: reduces symptoms such as coughs, colds, sinusitis, sore throat and bronchitis.
Headache : applied to the temples and forehead helps relieve headaches.
Insect bites : tiger balm is extremely effective for eliminating pruritus caused by mosquito bites, or other insects. It also has a repellent effect.
Burns : has anti-inflammatory effect even on burns and mild burns.
Cold hands and feet : due to its heating properties, tiger balm is useful in winter, spread on cold hands and feet.
Tired legs : finally, this balsamic cream is very useful in case of leg fatigue, as it improves the blood microcirculation.
100% vegetable tiger balm, without paraffin and petrolatum
As I promised you now I would like to talk to you about a new Tiger Balm, of Italian production, 100% vegetable and that does not contain paraffin, petrolatum, or other substances derived from petroleum .
Erbe di mauro Tiger cream
After years of research and experimentation, our company has developed a new balsamic cream far superior to the classic Chinese tiger balm.
A result obtained by exploiting the medicinal properties of other plants , less known in the East and replacing the oil derivatives with vegetable oils , which do not stifle the skin, but protect it and deeply moisturize it.
It is therefore a 100% natural and vegetable cream , totally free of parabens, paraffin, vaseline or other petroleum derivatives.
In addition to the ingredients already present in the original recipe of tiger balsam, our cream contains: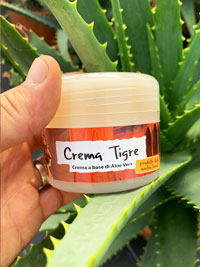 Aloe Vera : Aloe Vera gel moisturizes the skin in depth, has an anti-aging effect, has a high anti-inflammatory power against burns, burns, insect bites, and in case of muscle and joint pain. It also has healing, antibacterial, antifungal and antiviral properties.
Devil's claw : it is a plant from South Africa with an effective anti-inflammatory action, especially against bone and joint pain (tendinitis, osteoatritis, rheumatoid arthritis, back pain, cervical pain, bruises, sciatica, arthritis, arthrosis , etc.).
Arnica : with a strong anti-pain action, arnica is one of the most used herbal medicine plants for the treatment of muscle and joint trauma due to bruises, sprains, sprains, falls, bruises, etc.
Calendula : plant known in dermocosmetics for its strong regenerating properties against damaged, dry, or irritated skin.
Lavender : also lavender is very suitable for the treatment of irritated and damaged skin. It has anti-inflammatory, cicatrizing and antiseptic properties. Lavender is excellent in dermocosmetics for acne treatment, dermatitis, itching, burns and burns.
Sage : few people know that sage, for external use, is very effective for combating skin blemishes due to water retention, such as cellulite. It is also very useful for soothing insect bites and for its antibacterial properties. It is also very useful for fighting oily skin and acne.
The balsamic cream in question has all the properties already mentioned for the tiger balm, but thanks to the presence of Aloe Vera gel and other herbs (not present in the original recipe) acts faster and deeper .
I also want to clarify that it is a 100% vegetable and made in Italy product , available on our website: Aligre Vera tiger cream .
How to use
The tiger balm, as well as the balsamic cream of Erbedimauro, should only be used externally (never for internal use).
For muscular and joint pains and insect bites : use the balm in small quantities, applying it in the area subject to pain, or to itching. After that, gently massage, until the ointment is completely absorbed. These applications can be repeated several times a day.
In case of headache : the dosage to use is really minimal, just half a finger of tiger balm, applied on the temples and forehead, to give a quick relief against headaches.
For respiratory problems : in the case of coughs, colds, sore throat phlegm and bronchitis, tiger balm can be applied on the chest, forehead, nose and throat. Here too you will notice a quick relief.
Tired legs and cold hands / feet : massage your legs, feet, or hands with a bit of tiger balm, until it is completely absorbed by the skin. In a short time you will notice the difference.
Where do you buy?
The tiger balm is not bought in the pharmacy, nor in herbal medicine . It is a Chinese patent, produced and sold mostly in the Asian and American market and still untraceable in Italy.
It is possible to buy it only at some Chinese shops (that sell it under the counter, but look at the imitations). Alternatively you can try to buy it on Amazon, with the danger that the product is blocked at customs, or with waiting times even longer than 2 months.
Erbedimauro tiger cream (without petroleum derivatives)
If you are interested you can try our tiger cream, with the addition of aloe vera, devil's claw, arnica and other herbs with medicinal properties.
The properties are not only similar to the Chinese tiger balm, but thanks to the presence of these plants, it enjoys a decidedly superior efficacy. It also does not contain parabens, paraffin, vaseline or other petroleum derivatives. It is a 100% vegetable cream.
Find the product here: Tiger cream with Aloe Vera
Contraindications
The tiger balm is for external use only and should not be swallowed! In addition, contact with eyes and mucous membranes and the application of the ointment on open wounds should be avoided.
Use is contraindicated for children under 2 years and for pregnant and lactating women .
Finally, it is not recommended to use it if you are allergic to one or more of its components.
NB : All information published on this site is informative and should not be considered as advice, or medical prescriptions, or other.