If you have a small child you probably already know this.
In the first months of life it is almost impossible not to deal with diaper rash !
Many then write to me to ask for advice on the famous atopic dermatitis , a chronic inflammation of the skin which, in developed countries, affects about 20% of children and whose cause, unfortunately, is not yet known precisely.
Nobody has a definitive solution to this problem.
It generally disappears over time, but what we can do is take care of our baby, treating him with the right remedies, which give him relief, without attacking the skin.
Children's skin is different from that of adults
Before we start talking about natural remedies, it is important that you understand why baby skin is so delicate.
In the first years of life , our skin does not produce sebaceous and apocrine secretions .
For this reason, children have skin without sebum, which tends to be drier because it is not lubricated by what is called hydroacidolipidic film.
Furthermore, children's skin is very fine (almost half that of adults), so it is also more sensitive to the action of external agents (wind, cold, sun, rain, etc.) and absorbs the substances with which it enters very quickly. in contact (creams, soaps, bubble baths, etc.).
You will then have understood how delicate your baby's skin is and that, consequently, you will have to make a careful choice of the products you are going to use, whether it is a normal soap, or a protective cream.
Which products to choose?
The choice of natural and chemical-free products should be privileged when it comes to the health and hygiene of children.
In particular, I advise you to avoid all those products that contain substances such as:
parabens,
petrolatum,
silicones,
dyes,
surfactants,
foaming agents.
All substances that are also irritating to the skin of an adult, let alone that of a small child.
If you do not know which products to choose, on our site, in the Baby creams section , you will find a line of cosmetic products dedicated to children (creams, shampoos, detergents, etc.) that you can use with complete safety.
Attention also to clothing
Wool and synthetics can be very irritating to children's skin, so it is best to opt for linen or cotton clothing.
The diaper
I think you already know, but it's always better to repeat yourself.
The diaper should be changed often and, if possible, the baby should be left with the little ass uncovered from time to time, so that the skin can get air.
The main cause of diaper rashes in babies are due to stagnation of urine and feces , so changing the diaper promptly is the best way to prevent this kind of problem.
Natural remedies
Below I will only talk about those natural remedies that I know personally and that my wife and I use to take care of our little babies .
They are remedies that, except in rare cases of personal allergies (which unfortunately there can always be), you can use with complete safety.
Since the risk of allergies is always around the corner, I recommend that you always take a test before using a product. Use a drop or a small amount of that product and apply it to the base of the baby's wrist. If no redness or other irritation occurs within a few minutes, that product is safe.
1. Aloe Vera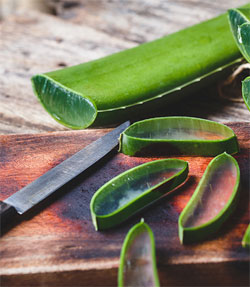 Aloe Vera is a universal remedy that is good for young and old. Its gel, applied to the skin, has a moisturizing, anti-inflammatory, antimicrobial and healing effect .
Pure Aloe gel can be used to treat any type of skin inflammation: diaper rash, atopic dermatitis, sunburn, sunburn and even open wounds .
If you already have a plant you can use the leaf directly : just cut a small piece, open it in two and apply the gel on the baby's skin, rubbing gently until completely absorbed.
I talked about Aloe Vera, but you can also safely use Aloe Arborescens leaves , only in this case the leaves will contain less gel than Aloe Vera.
What if I don't have a plant in the house?
In this case you can use natural creams, also tested for children's skin.
In particular, I can recommend our Aloe Baby Cream , which in addition to the Aloe Vera gel also contains Argan Oil, a vegetable oil that further enhances the moisturizing effect of Aloe.
Our products:
2. Calendula
Together with Aloe Vera, calendula is by far the most used natural remedy to prevent and treat inflammation of children's skin in a natural way.
Marigold is a plant with a characteristic orange or yellow flower, a flower that is collected and used to produce medicinal creams and oils.
What makes calendula so special is that, in addition to being an excellent anti-inflammatory and healing agent , it has the ability to stimulate the regeneration of damaged cells and tissues, as well as restore proper tissue hydration .
Which products to choose?
The best choice is calendula oil, as it is a 100% natural product based on vegetable oil and calendula.
The oil can be applied directly to the skin, to treat any type of irritation of the child , massaging gently until completely absorbed.
If the child has cradle cap , a cotton swab dipped in calendula oil can be used, which is then passed to the area where the scabs are present. No need to rinse.
Calendula creams
Alternatively, natural calendula creams, specially formulated for children, can work well.
However, always pay attention to the ingredients that appear on the label and make sure that the cream you are about to choose does not contain harmful chemicals.
If you don't know which cream to choose …
Among the many I can recommend our Protective Calendula Cream , which in addition to calendula contains other natural substances that help protect and moisturize the baby's skin, such as shea butter, sweet almond oil, bran oil. of rice and sunflower oil.
This cream, as well as calendula oil, can also be used to treat any type of baby irritation.
I nostri prodotti:
3. Roman chamomile
Another effective and safe remedy for children's skin is Roman Chamomile and in particular Roman Chamomile oil. Chamomile oil, applied to the skin, has anti-inflammatory and soothing properties.
Again, the oleolite can be used to treat any type of inflammation of the baby's skin, including atopic dermatitis and cradle cap .
Compared to the two remedies seen above, Roman chamomile is more effective in treating children with very fair skin .
Our products:
4. Lavender essential oil
In this case we are not talking about an oleolite, but about an essential oil.
L ' essential oil of lavender (Lavender officinalis) is one of the few essential oils that can also be used on children's skin and is known for its extraordinary flexibility.
Let's see what are the main applications regarding children's disorders:
Against dermatitis and skin irritations
First of all, lavender essential oil is a powerful anti-inflammatory.
It is useful for soothing skin irritations of any kind, due for example to sunburn, burns from the stove, insect bites, diaper rashes, various types of dermatitis, hives and even psoriasis .
How to use?
It can be applied pure on the skin of adults, but in children I recommend mixing it with a vegetable oil, or one of the remedies we have seen previously.
For example, you can add 2 drops of lavender essential oil to a teaspoon of calendula oil , to be applied to the area affected by irritation, massaging gently until completely absorbed.
The essential oil of lavender will amplify the anti-inflammatory action of the calendula oil.
Furthermore, the essential oil of lavender is an excellent antimicrobial and antifungal , so it is perfect if the child is affected by fungi, or infections of some kind, for example.
In case of Colic
Lavender essential oil, always diluted in a tablespoon of vegetable oil (or an oleolite), can be used during your baby's periods of colic .
To decrease the pain, simply massage the baby's tummy and back lightly with the mixture of oils obtained.
It reduces the pain caused by teething
Using lavender essential oil is perfect for soothing teething pains .
Also in this case, 1 drop of the essential oil is diluted in a little vegetable oil, or in one of the oleolites seen previously and gently massaged the jaw.
Relax and promote sleep
Lavender essential oil is known for its relaxing action, thanks to the pleasant and pleasant scent it emanates. You can add 1-2 drops of lavender essential oil to your evening bath to calm and help your little one sleep.
But be careful, essential oils are not water-soluble and to ensure that they dissolve in water, you need to dilute them with a little milk, or with vegetable oil, or with a little salt, before pouring them into the water. .
Alternatively, you can vaporize the essential oil into the air .
To do this in winter, you can add 5-6 drops of lavender to the radiator's water tank.
Obviously, if you have a vaporizer, you can easily repeat this practice even in summer.
Vaporizing essential oils is a healthy practice, which helps purify the air, significantly reducing the presence of viruses and bacteria and consequently reducing the risk of getting the flu, cold, or other infectious diseases, especially in winter.
Our products:
To conclude
These are the remedies that I know the most and that I use almost daily, having two small children in the house. Surely there will be many others just as effective, but these are the ones that I would recommend for what is my experience as a parent, as well as as a connoisseur, grower and lover of medicinal plants.
I really hope this guide will help you treat, or even better prevent, your little one's problems.
NB: Tutte le informazioni pubblicate su questo sito hanno carattere divulgativo e non devono essere considerate come consulenze, o prescrizioni mediche, o di altra natura.